PA Security Forces cartoon:
Netanyahu's hands drip with blood

Itamar Marcus
Although the Palestinian National Security Forces coordinate with Israel on security issues against Hamas, this does not stop them from demonizing Israeli Prime Minister Benjamin Netanyahu and Israeli soldiers.

This cartoon, with the logo of the Palestinian security forces and posted on its official Facebook page, presents Netanyahu with blood dripping from his hand. He is shown holding a magnifying glass with the word "Sharon," i.e., walking in the footsteps of former Israeli Prime Minister Ariel Sharon, who the Palestinian Authority likewise demonizes as a person who sought to kill Palestinians. [Facebook page of the PA National Security Forces, Oct. 14, 2016]
Palestinian Media Watch
has documented that
demonizing Israel
is a fundamental component of Palestinian Authority leadership messaging to its people.
The PA National Security Forces demonized Israeli soldiers in another cartoon. Two Israeli soldiers with long noses standing at a checkpoint are ordering dogs that are shaped like assault rifles to attack Palestinians, who are lying bleeding on the ground. [Facebook page of the PA National Security Forces, Oct. 17, 2016]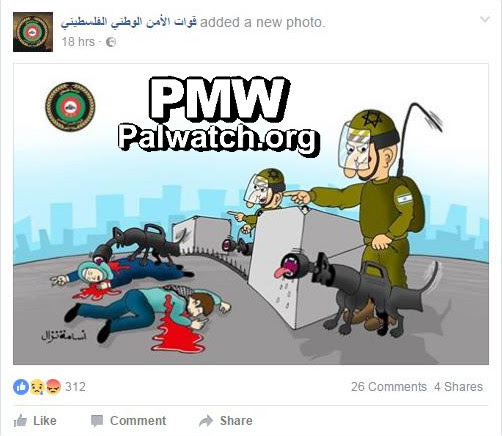 The cartoon apparently addresses the
alleged "summary executions"
that the PA claims Israel is carrying out, in a reference to how Israeli soldiers have shot Palestinian terrorists as they were in the act of attacking Israelis.